The Fall conference season is upon us, and I am racing to finish my notes for four different shows that all have their deadlines at the end of this month. The first show is a new one, EclipseWorld, at the Roosevelt Hotel in Manhattan Monday-Wednesday next week. (August 29-31). The show seems to cover pretty much everything Eclipse related from RCP to SWT to TTPP to WST to ABCDEFG to WXYZ. I'll be delivering four sessions on XML Editing in Eclipse, Macifying SWT, Test Driven Development with Eclipse, and Static Code Analysis in Eclipse.
---
The next show I'll be at is Software Development Best Practices in Boston (September 26-29). As well as hosting a panel on next generation client side technologies I'll be talking about Effective XML, GUI Testing, JUnit 4, Testing XML, and User Interface Principles in API Design. The show is looking for a few more volunteers to man doors, distribute notes, and similar tasks. For each day you volunteer, you get to attend the conference for a day free; and most volunteer days involve nothing more strenuous than sitting in the back of the room listening to the presentation, and collecting eval forms at the end; so really, it's a nice way to attend the show for free.
---
Then it's back to New York October 15-16 for the kickoff event in a new Weekend with Experts series devoted to J2EE. I'm not much of a J2EE person, but I'll fake it by talking about Effective XML.
---
Staying in New York (I'm really glad to see so many shows coming to New York) November 1-3 will be the Software Test & Performance Conference at the Roosevelt Hotel. Here I'll talk about Testing XML and Measuring JUnit Code Coverage.
---
Then I'll be travelling to Los Angeles for the first time November 14-18 for STARWest 2005. I'll be teaching a one-day intro tutorial to JUnit designed for testers, and then talking about Testing XML again.
---
In December, there's a tentative trip planned to Antwerp, Belgium for Javapolis. Details still remain to be worked out but I'll probably be talking about XML related subjects.
---
Moving even further out, next year I'll definitely be at Software Development 2006 West, March 13-17, 2006, in Santa Clara once again. I'm on the advisory board for that show and we're just starting to pick next year's sessions, but it looks like it's going to be really hot. In particular, it looks like there'll be a lot of AJAX, scripting, and web app content in addition to the usual batch of Java, C++, .NET, XML, and Testing. Plus I'm expecting to host the world's first ever 6:00 A.M. BoF.
---
If there are any other shows you'd like to see me at, just drop me a line or ask the show organizers to recruit me. (Believe it or not they really do read the evaluation forms you fill out at the end of every session, and if you ask for particular speakers, they will notice.) I also talk to user groups if travel expenses can be covered and they're not too far from New York City, or if they can be scheduled in conjunction with a show I'm already attending. (Contrary to popular belief, publishers do not have unlimited budgets for author tours. In fact, for midlist computer book authors, they tend to have no such budget at all. :-) ) I also do occasional corporate training on XML, test driven development, and Java.
Laid out like that, it looks like quite a lot. It always seems more doable when I'm signing up for these shows and don't have four simultaneous deadlines staring down my throat. :-) But it's usually a good time, and I hope to meet some of you there.
Day 5 of Extreme begins. This is half day with three sessions and a closing keynote, which is plenty enough. I'm a little zoned by now. First talk this morning is IBM's Erik Hennum discussing "A Unified Type Hierarchy: A Proposal for DITA 2." DITA is the Darwin Information Typing Architecture. From his diagram it looks like another example of the rule that any problem can be solved by an additional layer of indirection. In this case, the indirection allows different topics (answers to questions) to be combined in different ways in different collections. "Maps are collections of topic references that provide a context for topics...maps aggregate topics." This enables the same content to be reused in many different contexts and collections. caveat: despite the terminology this is not about topic maps. DITA is a hierarchy of types. Customizing XML markup to your needs prevents you from sharing the work with other groups. Instead of customizing, he wants to specialize. I'm not sure I see the difference, but it seems to be just sharing some markup and adding new custom markup instead of doing everything from scratch. Extension by substitution. This seems to be like subclassing in OOP. They can say that a steps is an ol, and a step is an li, and a taskbody is a body and so forth. They use DTDs, attributes, and XSLT to enable all this. "It's proven to be very pragmatic." "You can only constrain content models. You can't add things to content models." This is like inheritance where you can override but not add new methods. (Difference is that the overriding elements/methods don't have the same names as the methods they override.) XSLT can easily change your specialized content to the more general form, mostly just by changing element names. This is DITA as it exists today.
What else is needed? Obviously the ability to add properties to subclasses, as well as just rename them. i.e. subtypes can have child elements the supertype doesn't have.
---
Eric van der Vlist is discussing "RDF Query By example." He's doing a presentation with only angle brackets. Even I don't go this far. I write my notes in XML too, but I add a stylesheet to change them to HTML before displaying them.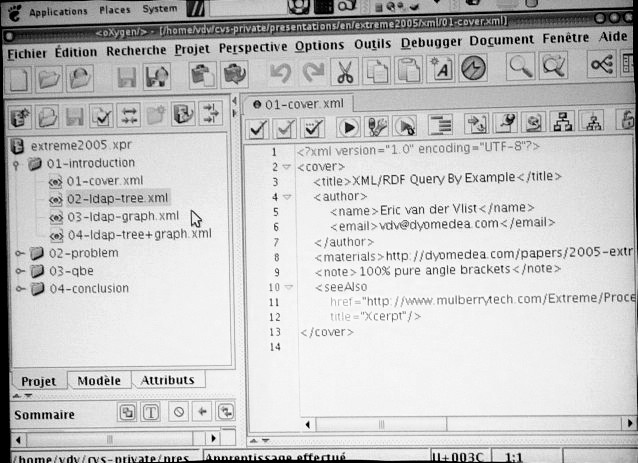 He needed to work with LDAP, which is both a graph and a tree. "RDF is a nice way of modelling graphs."
---
The first (and last) real case study I've seen at this show is Jeff Beck describing "How XML made the NIH "Policy on Enhancing Public Access to Archived Publications Resulting from NIH-Funded Research." The extreme part is the public access policy. (Not so extreme: it's voluntary.) The XML part is PubMed Central, a stable archive of NIH funded research publications. (This is not the same as PubMed, which only contains abstracts, though about 13 million of them. This contains full articles.) About 1400 NIH funded papers a week are published. Every submitted article is converted into XML (often from PDF!?) (Many are submitted in SGML.) These papers need to be accessible without plugins and on slow connections (e.g. in the field in Africa). Special characters and math were thus a problem. Unicode is part of the answer but only part. They are scanning back issues. Only 11 manuscripts are available so far. More are coming. Articles are delayed six months after original paper publication before being posted online. They validate with DTDs and XSLT.
---
Here's a picture of the poster that collected comments, suggestions, and RFEs for the XML randomizer I talked about on Tuesday:
Some good ideas here and some wild ones, and those are not necessarily non-intersecting sets. It occurs to me that this pretty well describes the whole conference.
---
Traditionally C. Michael Sperberg-McQueen gives the closing keynote, and this year is no exception. The official title is "Getting it in writing: The letter killeth, but the spirit giveth life. Or was it the other way round?"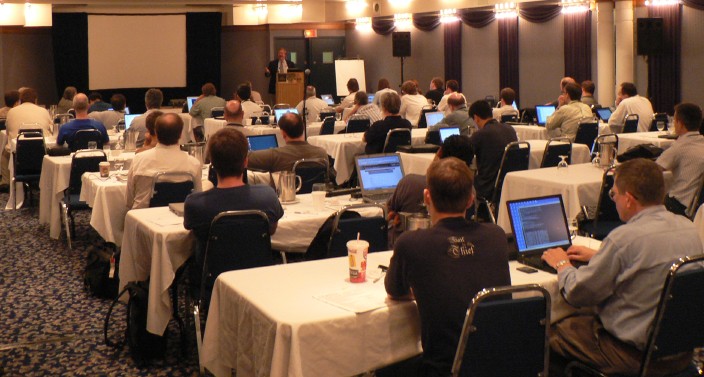 By the way, I apologize for the quality of some of the pictures. The lighting in the room we're in this year really seems to disagree with my camera (a Panasonic Lumix FZ5).
Good morning. Welcome to day 3 of Extreme. If you're only reading this in RSS, or in one of those browsers/aggregators that can't handle the full panoply of correct RSS <Cough>Planet XMLHack</Cough>, <Cough>Artima</Cough>, you're missing a lot. Come visit the site. And to answer one frequently asked question I'll do a full text feed for this site at such time as someone writes an RSS client that gives a user experience at least equal to a real Web browser. That means at a minimum:
It must be open source.
It must run on Mac OS X.
It must fully aggregate feeds.
It must hide previously read items.
It must fully support Atom 1.0 and XHTML.
It must not clutter the screen with irrelevant detritus.
The page up, page down, home, and end keys must all work correctly.
It must import and export OPML.
It must be at least as AppleScriptable as FireFox (which honestly isn't all that much).
It must not allow any third party to observe what I'm reading.
That's not everything, but those are some of the most common problems I've encountered; and I've tried pretty much everything that's out there. If a product satisfies criterion 1 (open source) and is written in a language and on top of a toolkit I'm comfortable with and gets pretty close to these requirements, I'd even dedicate some time to filling in the last holes. Sage is probably the closest I've come to what I want, but it's not quite there yet; and I really don't have any experience hacking on XUL. I did submit one patch to fix its font size problems, but the remaining missing features exceed my ability to fix in the time I have available.
I don't have any particular reason to prefer HTML to Atom/RSS for this site. There aren't any ads, and I rarely bother to look at my traffic stats; but I'm not going to put any effort into creating full-content feeds until there's a browser that can handle it.
---
This morning starts with two sessions on overlap, a perennial favorite topic here at Extreme. In fact, a brief comment I made here on Tuesday while listening to the keynotes elicited a rather lengthy explanation from one of the conference co-chairs on the conference Wiki.
This is the topic that justifies calling this conference Extreme Markup instead of Extreme XML. The overlap problem arises when things don't fit neatly into trees. For instance, suppose a quotation spans several paragraphs but begins and ends in the middle of two different paragraphs. How do you handle that? There are a number of approaches, none of them really satisfying. I wrote a little about this in Effective XML, but everything suggested there was really just a hack. One common approach is to use empty-element tags as pseudo-start and end-tags connected by attributes as in this example adapted from Syd Bauman's talk this morning:
<![CDATA[And I said to him, Superman, have you not seen,
The embarrassment havoc I'm wreaking?]]>
The bottom line is that overlap is just not something XML is designed to support. Really handling overlap requires a different markup language. One popular choice is Wendell Piez and Jeni Tennison's LMNL (pronounced "liminal") which stands for "Layered Markup and Annotation Language." Jeni isn't here this year, but Paul Caton is and will be talking about LMNL in the second session this morning.
Overlap tends to arise more in analysis of text rather than authoring of text. Overlap is a particular problem for scholars doing textual analysis of the Bible. Shakespeare, etc. I suspect Syd Bauman will be addressing this in the first session this morning, "TEI HORSEing around: Handling overlap using the Trojan Horse method." Overlap does not seem to be such a big deal for original authors of new work since it's normally possible to fit most content into reasonable trees without a great deal of effort, as long as you think about it up front. And even if you don't it still doesn't tend to come up that often. The author has one view of the document that does fit pretty well into a tree most of the time. For textual analysis, however, different scholars are going to want to ask different questions and thus form different trees from the same text. (As Walter Perry noted yesterday, the intent of the author is not necessarily and should not necessarily be respected by the reader.) For instance, one use case might require marking up text by speaker and another by verse. Do we need to have both trees in the same document, or is the real solution a way of combining and applying different trees over the same text?
However, there's one other use case for overlapping markup; and this is a real practical killer application, even for those of us who don't analyze classical Greek and Hebrew corpora for a living. That use case is change control and revision markers. The current state of the art for change control is CVS and Subversion, which just treat XML like any other text files. I'm not sure what the state of the art is for XML change markers; probably whatever's in OpenOffice.org's format or Microsoft's WordprocessingML. I'll have to take a look at that and see how they handle it. But whatever they do, I bet it's a kludge. I don't think there's a good solution for this problem within the bounds of standard XML.
---
Why does an ID have to identify a single element? For instance if a quote is spread out over several paragraphs, why can't we assign the same ID to each of the paragraphs or other elements used in the quote, and thus have an ID for the whole distributed quote?
---
Syd Bauman of Brown University's Women Writers Project kicks off day 3 with "TEI HORSEing around: Handling overlap using the Trojan Horse method." HORSE is the hierarchy obfuscating really spiffy encoding. He's proposing YAMFORX (Yet Another Method for Overlap Representation in XML.)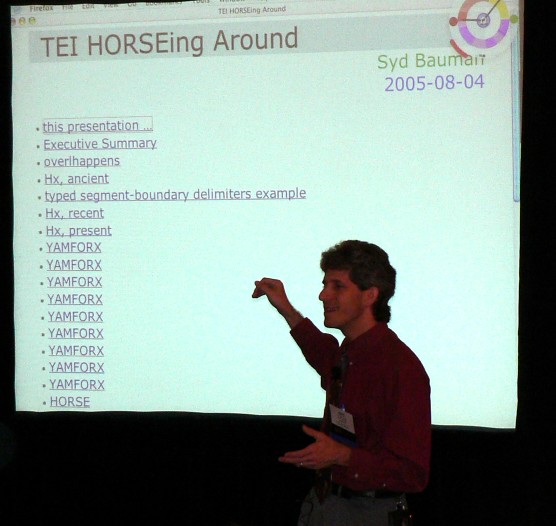 He's using RELAX NG to validate. He's using Schematron to validate the matching between the pseudo-start empty element-tags and the corresponding pseudo-end empty-element tag because RELAX NG can't do this. (This would make a compelling use case for extensible RELAX NG complex types validation. Someone remind me to send this to the relaxng mailing list.) He might like to extend this scheme to many elements.
It strikes me that the real problem with the TEI approach is that it's not naturally exposed in the tools and data models used by DOM, XPath, XQuery, XSLT, etc. He recognizes this too. The pseudo-start-tags and pseudo-end-tags don't become real elements when parsed. He can swap which elements overlap which. However, this may break validity.
---
The second session features Paul Caton talking about "LMNL Matters?" LMNL has not seen broad adoption or development.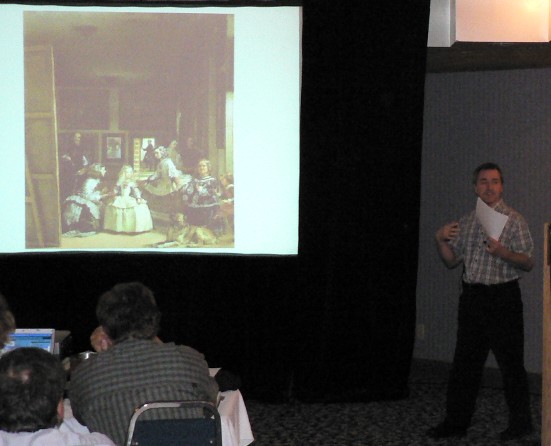 He wants genuine third party markup like highlighting a book. That is, the author does not know about, permit, or participate in the markup. Hence Limner.
He references Foucault as saying users tend to think in hierarchies naturally, at least post-Linnaeus.
In Q&A Wendell Piez suggests that multiple overlapping hierarchies are a subset of the overlap problem.
---
After the coffee break, Erich Schubert discusses "Structure-preserving difference search for XML documents" (co-authors Sebastian Schaffert and François Bry). Think diff, merge, patch, CVS, Subversion, etc. but also about humans scanning diff files to identify changes. This is where diff really falls down. Plus line-based text diffing isn't really suitable for XML. Most XML differencing uses longest common subsequence where XML tokens such a stags are used as the boundaries rather than line breaks. This algorithm focuses on producing the minimal file size, but honestly who cares about this in 2005? It was important for distributing software over Usenet in 1985, but it's just not a problem today. It's more important to focus on human factors and human comprehensibility of the diff files. He shows Logilab's XPath based xmldiff format; and he's right. It's ugly and incomprehensible.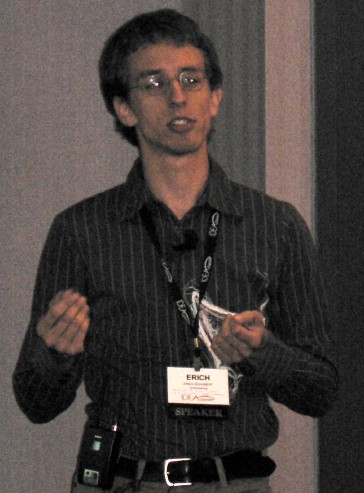 Xcerpt query by example and Simulation Unification algorithm inspired him. He's trying to maximize structure preservation in the diffs. They use Dijkstra's algorithm with optimized cost functions Implementation is open source in C++ on top of libxml. The prototype is limited to XML, but the algorithms generalize to any graphs. The output format is XUpdate
---
We need a lightning talk session at this conference.
---
Steven DeRose gives the talk I'm most looking forward to hearing this morning, "Architecture and speed of common XML operations." Optimization's always fun, if usually unnecessary; and this might give me some good ideas for speeding up XOM. (The next beta should be roughly twice as fast as the previous release, by the way. Wolfgang Hoschek found a number of inefficiencies in parsing and serialization I've now corrected.)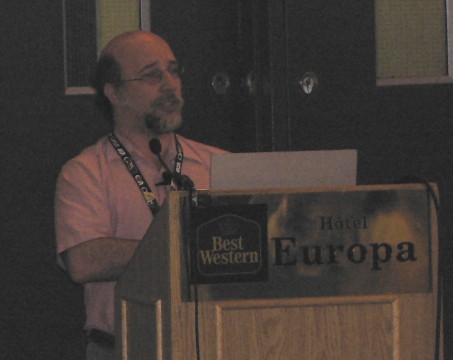 He starts off with a recap of basic algorithm analysis. Steve, we all know all this already. Tell us about XML! (There are ~60! particles in the universe. I didn't know that, and I sort of wanted to. Does that include photons and neutrinos or just protons, neutrons, and electrons?)
OK, he's finally started on XML 20 minutes into a 45 minute talk. Or really SGML. A naive implementation of the & operator can have exponential behavior (but better algorithms are possible.) So far this is still old news and a solved problem though.
Onto XPath: what's the speed of different query operations? Same question for DOM. These are non-trivial. XPath tends to be at least O(n) where n is the number of items in the list you're operating on. DOM does not offer preceding or following axis like XPath does. This means XPath on top of DOM has a bottleneck on the preceding and following axes. (Perhaps for this reason nobody actually does this.) If you have a list of all the nodes in the document (which DOM normally doesn't), then preceding and following are fast.
Parameters (the N in O(N) ) can be the number of nodes in the document, the depth of the tree, or the number of children. In his experiments non-CALS documents tended to be about 8 deep. CALS documents were about 13 deep. Number of children runs about 1-100. Dictionaries that out all the definitions at one level may go up to 25,000 child elements or even 125,000 for an English danish dictionary one audience member worked on; but normally number of children is 100 or less.
Storage models:
Raw XML
Native XML database (that encompasses a lot of options)
Relational XML
Why is he ignoring object model issues? That's an important fourth option, though there are as many or more options as in case 2.
Indexing helps for raw XML, but it imposes size limits on the documents you can handle.
Big problem with relational databases for XML is limited axis support. Plus they explode space usage. First child + next sibling is a common compromise. However it's one way. Parent and first-child also works OK. It's O(N) to get the preceding siblings. All preceding siblings is O(N2). All preceding siblings of all nodes is O(N3) on this implementation. Or you can work around it in your code. Instead gather a list of all the siblings in forward order and then run through it backwards. In other words, flipping the order of iteration through the loop may speed code up by three orders of magnitude or more. Collecting all the ancestors is also expensive on top of a relational database. (fixed point join) Dongwook Shin has a method to pack an XML structure into a relational database. This is pretty clever stuff that I can't type fast enough to summarize. Read the paper. However the insertions are expensive but you can use real numbers instead of integers to speed up insertions. And he's out of time.
---
Sometimes the most interesting things happen at lunch. David Dubin just clued me in to the non-existence of the phantom paper, an influential paper that is regularly cited in its field that was never written and never published. I've heard of urban myths and famous quotes that were never actually said; but this is the first time I've encountered a mythical paper. This paper is usually cited as having been written 30 years ago, so why are we just now discovering that it doesn't exist? Doesn't anyone check their references any more?
---
Mirco Hilbert and Andreas Witt (co-author Oliver Schoenfeld) are discussing "Making CONCUR Work". As Deborah LaPeyre said in her introduction, CONCUR is the feature in SGML nobody ever implemented.
The issue is non-hierarchies: multiple roots. Non-hierarchical markup (e.g. overlap) can often be implemented as multiple trees. CONCUR allowed on document to reference two different DTDs for two different, potentially overlapping hierarchies. They call their solution MuLaX (Multi-Layered XML). It's modeled on CONCUR but is not CONCUR. It looks like this:
<![CDATA[


<(1)div type="dialog" org="uniform">
  <(2)text>
    <(1)u who="Peter">
      <(2)s>Hey Paul!(2)s>
      <(2)s>Would you give me
    (1)u>
    <(1)u who="Paul">
      the hammer?(2)s>
    (1)u>
  (2)text>
(1)div>]]>
They can project this onto an annotation layer that I think is real XML. The editor tool is written in C++ with wxWidgets.
---
The next session is "A New Paradigm of Parsing XML based on Free Cursor Mobility" (FCM) by Antonio J. Sierra. This is event based parsing (like SAX or StAX?). The difference is you can move the cursor back as well as forward. It's designed for small platforms (e.g. cell phones and PDAs). Could you implement XPath on top of this? Maybe even if not perfectly efficiently? Might be important for small devices with large documents.
The API terminology is a little idiosyncratic, brother and father instead of sibling and parent.
The idea is pretty obvious: basically it's an iterator like in a pull parser with extra methods to go backwards as well as forwards. The key is in the implementation. How will this work on streaming data over the network? It measures faster than Xparser-J (DOM) but slower than kxml2. kxml2 is the only parser in his comparison list I've heard of, and it's not state of the art.
---
Felix Sasaki (co-authors Christian Lieske and Andreas Witt) is talking about the W3C's Internationalization and Localization Markup Requirements (which is scheduled to be published tomorrow but he gave away the URL today). More specifically he's talking about "Schema Languages & Internationalization Issues: A survey."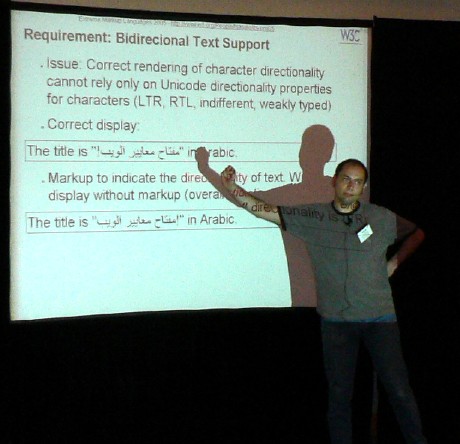 The question is how to work internationalization and localization based markup such as bidirectional markers and Ruby into schemas. Versioning is a problem. XHTML is the poster child here. DTD modularization doesn't survive validation. W3C Schemas have problems. Architectural forms may help as may RDF. Eric van der Vlist in Q&A suggests using processing instructions instead.
---
In the final regular session of the day Liam Quin is catching flak for the W3C about anything and everything people want to bitch about. He hopes XSLT 2 will go to candidate recommendation in a couple of months.
Tommie Usdin is very disappointed in the "nearly all" compatibility of XSLT 2 with XSL 1.1. She wants full compatibility. "It erodes confidence. It's an enormously big public relations mistake."
Syd Bauman wants the W3C to handle characters outside of Unicode (a very bad idea IMHO). He wants SDATA entities.
Simon St. Laurent wants to start simplifying standards again (as XML simplified SGML, XSL simplified DSSSL, and XLink simplified HyTime) and stop building huge specs by committee like Schemas, XQuery, and XSLT 2. Ann Wrightson agrees, and adds that she wants the W3C to knock vendor heads together to encourage more schema compatibility.
John Cowan wants the XML Core Working Group shut down to prevent people from tampering with the core of XML.
Scott from Boeing found that most of their suppliers didn't even know what XML was, and they had to train them. They also had problems with XML editors that couldn't handle some basic tests cases.
Day two of Extreme commences. Simon St. Laurent and Roger Sperberg are also reporting from the show, and both paid more attention yesterday to what people were actually saying than I was. I confess yesterday's sessions on OWL, RDF, Topic Maps, and UBL pretty much put me to sleep. Plus, these days I'm a morning person. I'm ready to go by 6:00 A.M. and anything after lunch is a stretch. (Welcome to middle age.) It also didn't help that two of the talks I particularly wanted to hear yesterday were cancelled. At least the DFDL replacement session was interesting. I was a little too tired to get full value out of it, but it does sound worth exploring more in the future. However, there are lots of good talks to look forward to today starting with two on XSLT and a talk from Walter Perry, one of the most iconoclastic thinkers in the XML space. He's so diametrically opposed to the conventional wisdom that most people can't even hear what he's saying. It's like trying to explain atheism to an eighth grade class in a Texas Christian school. Atheist: "I don't believe in God." Class: "You worship Satan?!" Atheist: "No, I don't believe in any gods." Class: "But that means you believe in the devil." Atheist: "No, I don't believe in the devil either." Class: "But you just said you don't believe in God." Except in Walter's case it's schemas, DTDs, and preexisting agreements he doesn't believe in instead of God and the Devil. (Disclaimer: This is just a metaphor. I have no idea what Walter's religious beliefs are.)
---
Ken Holman is talking about synthesizing XSLT based on his experience with the UBL stylesheets. 25 stylesheets is too many to write by hand. Instead he annotates a literal result (a hand-authored instance of XSL-FO) and generates the XSLT from that. This was important because in UBL he needs to match the printed formatting very precisely. He annotates with namespaced attributes that an XSL-FO processor will ignore. RELAX NG helped him because it could validate only the annotations and ignore everything else. This seems like a very powerful idea. I don't fully understand his syntax yet, but it doesn't look too complex.
---
I think I've figured out what was wrong with the camera. The autofocus only works indoors if the flash is turned on. Here's a picture of Ken presenting:
If only I'd remembered to install iPhoto or Photoshop Elements on the PowerBook before leaving New York.
---
Matthijs Breebaartis from Holland is talking about "Processing references to documents you don't have access to: Constructing identifiers with Relax NG and XSLT". The problem is a lot of information is organized into "vendor silos" and they want to be able to break the silos, and show the users what they need from across many different silos without redundancy. They need to link all this stuff but they don't control it. Different publishers have different URLs for the same things. (So much for the "Uniform" part.) They tried to get everyone in one room and agree on basic concepts. He prefers meaningful identifiers to opaque IDs. They wrote everything in RELAX NG and used Trang to translate to W3C XML Schemas to satisfy company policies. Their element names are all in Dutch, but appear to be restricted to ASCII. They use Python.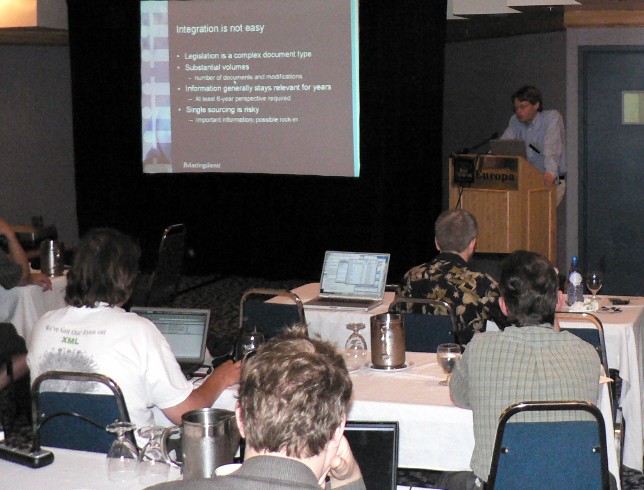 ---
Why don't the raw XML forms of the papers published on the Extreme web site have xml-stylesheet processing instructions? e.g. this one.
---
Ann Wrightson is talking about "Semantics of well-formed XML as a human and machine readable language."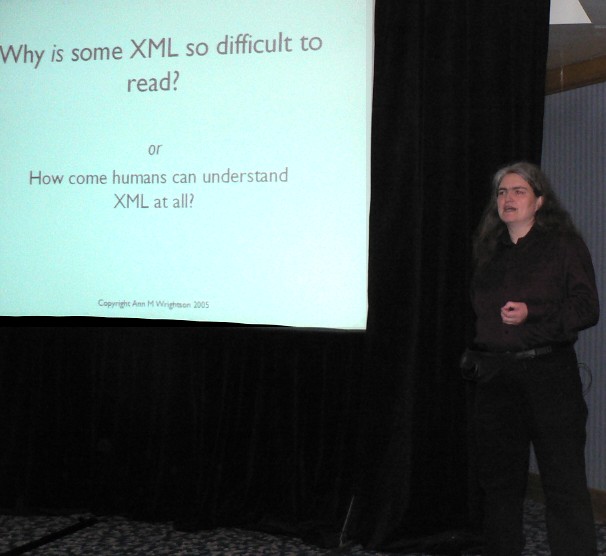 ---
The official title of Walter Perry's talk is "Indexing The Whole As Well As The Parts: Derived Schemas and Imputed Hierarchies in Document Management." He starts with a quote from Peter Murray-Rust about how the CML DTD must be flexible because we don't understand chemistry:
With CML (unlikely though it may seem) we have to have an extremely fluid DTD. That is because we don't understand chemistry. It was put well by Democritos "Nothing exists except atoms and empty space - all else is opinion". The Chemical Bond is simply an opinion and people fight about it just as much as over XML matters. So CML is increasingly becoming very sparse (atoms, bond and electrons, with a bit of geometry). That allows authors free expression.
Walter thinks we don't really understand documents, schematization, or much else; and hence need more flexibility. Schemata are effectively structural. they are interdocument in scope. They constrain lexical possibility. By contrast instance documents are hyperstructural. Schemas operate on the internal context of a document. external context includes hyperlinks, key/value indexing, processes that can consume a document, and processes that might produce a document. External contexts are significant for document search and query.
It is the process that should decide what kind of documents it can consume; not the document that decides what it can be consumed by; i.e. the document cannot specify its own type.
Indexing documents in semantic value spaces identifies bonds.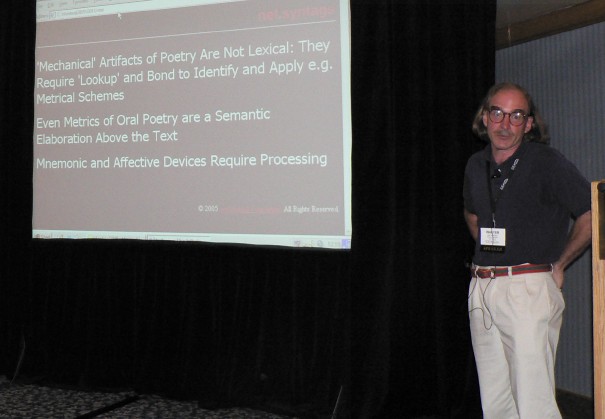 ---
The afternoon sessions begin with several talks about XQuery. The first is Daniela Florescu from Oracle with "Declarative XML processing with XQuery: reevaluating the big picture." She thinks we need more architectural work and less syntax sniping. She thinks we don't have a clear idea of the "final goal" of XML, and that we need one. "There is one problem: everybody likes it for different reasons." I disagree on that last point. The beauty of XML is that it solves so many goals so well, including goals no one has thought of. We don't all need to do the same thing.
She's got some interesting things to say; but she's going way too fast for me to get it all down. Her database colleagues don't believe in mixed content. (No surprises there.) Entity relationships (E/R) don't work with mixed content. "XML is the only tractable abstract information model that is not E/R based." She brings up LISP. "30-year malaise in IT infrastructure" as a result of schema dependence. XML is the first to allow instance documents to be created in advance of schema. Schemas differ from community to community. Agreeing on a schema is the most expensive step.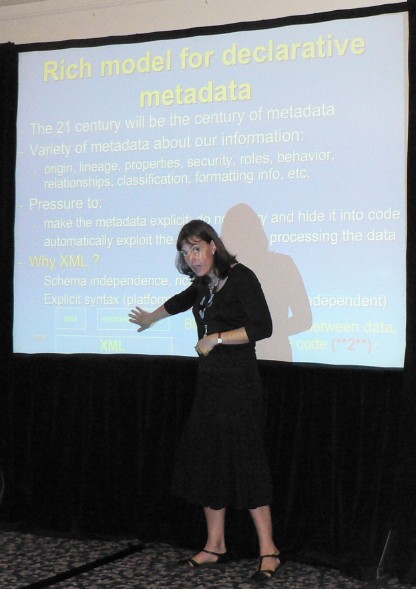 The power of //*; i.e. the ability to query something without knowing where it is or what it's called. (cf. SQL). "XQuery is a not a query language. In my opinion it was a very bad name." Difference between XQuery and SQL is that SQL works on a a table and XQuery on a tree. (Good point, nicely stated.)
XML/XQuery doesn't fit anywhere into the current architecture without paying a large price. Architecture needs to change or XML will fail. XQuery data model must be a first class citizen. Must make XML a graph not a tree. (I'm just taking notes here. I disagree with quite a lot though not all of this.) She wants to deprecate document nodes.
An E/R model is cyclic. No standard way to support this in XML. Only hack solutions. No global and standard solutions. We need native references in XML. This would improve integration between XML and RDF. (In Q&A it comes out that we have them in XML. That's what ID and IDREFS are. It's XQuery that's lacking here.)
She wants to deprecate xsi:nil. She wants to embed code behavior into schemas! She wants assertions (preconditions and postconditions) in schemas.
She wants continuous queries over infinite sequences in XQuery. (That might be useful.)
"XSLT is easier when the shape of the data is unknown. XQuery is easier when the shape of the data is known." (Another good point, nicely put.) Web services and XQuery don't work together closely enough. We need to make XQuery a full programming language. It's Turing complete, but inconvenient for programmers. Writing the code in Java kills the advantages of XML. She wants updates, variable assignment, error handling, and deterministic evaluation order added to XQuery.
"The industry needs to outgrow the 'XML is a syntax' myth." She's making so many points and claims so fast that she has little to no time to justify any of them. There's probably a day's worth of material she's trying to cram into 45 minutes. I see virtually no chance of her getting all (or even any) of the changes she wants, and that's probably a good thing.
---
Next Jonathan Robie (cowritten with Daniela Florescu) describe "XQuery Update Facility: Setting Up the Problem" He's talking about one subbullet of one bullet on one of Daniela's slides in the last talk. "We're still not certain what we need." They aren't even sure about the use cases, much less implementations and strategies. XQuery updates are "mostly ACID." Isolation is the part that makes it only mostly.
---
IBM's Achille Fokoue is talking about "Extracting input/output dependencies from XSLT 2.0 and XQuery 1.0." This involves mappings between schemas (input and output formats) as defined by XSLT and XQuery.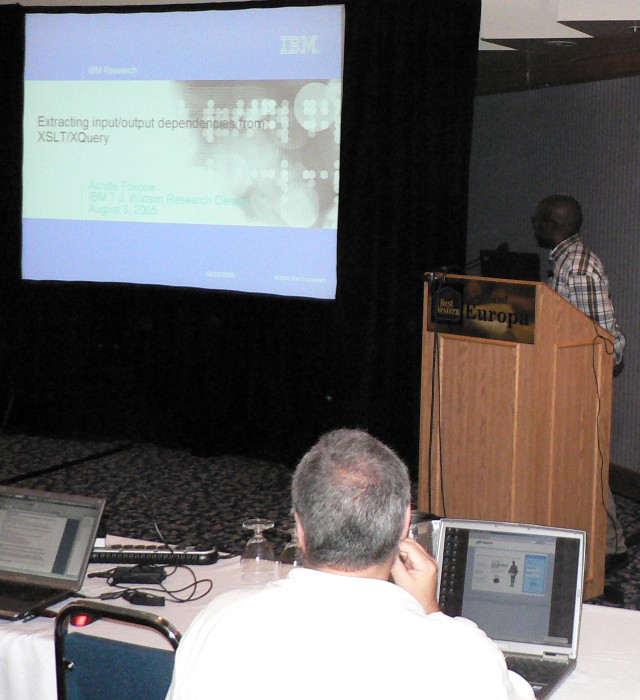 The accuracy of the mappings is a trade-off with the cost of creating the mappings. It can have exponential behavior if you aren't careful. XSLT is too tricky to handle due to recursion. XQuery is easier.
---
The final talk of the day is C. Michael Sperberg-McQueen on "Applications of Brzozowski derivatives to XML Schema processing." First a brief lesson in Polish on how to pronounce "Brzozowski."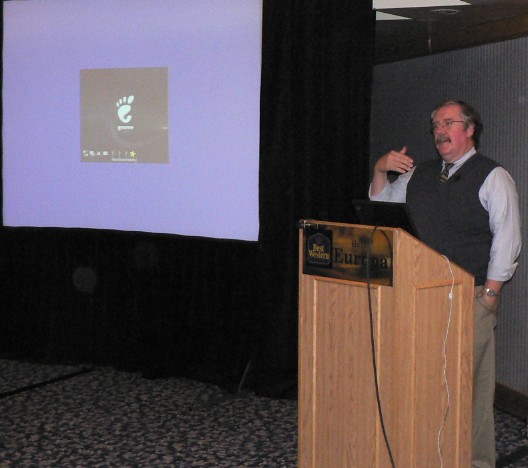 A Brzozowski derivative is:
the derivative of R with respect to s is the set of strings t which can follow s in sentences of R, or: the set of strings t such that the concatenation of s and t is a sentence in R.

Regular sets of strings can, of course, be denoted by regular expressions, and Brzozowski's contribution was to show how, given (1) a regular expression E denoting the language R and (2) a string s, to calculate a regular expression D denoting the derivative of R with respect to s. He also proved (3) that of all the derivatives of an expression, only a finite number would be distinct from each other in terms of recognizing different languages, and (4) that even if equal expressions are not always detected, there will still be only a finite number of dissimilar derivatives, if certain simple tests of similarity are performed; he then showed (5) how to construct a finite-state automaton from the set of characteristic derivatives thus identified.
This talk isn't quite as fast paced as Florescu's, but it too could really use three hours and a blackboard instead of 45 minutes and slides. It's quite mathematical. The notation he's using is unfamiliar to me. He explains it, but following this is going to be tough.
Brzozowski derivatives allow you to avoid building the finite state automaton when evaluating regular expressions. They can also handle non-deterministic regular expressions very simply. This has important implications for validation. Evaluation of a regular expression reduces to the question of whether its derivative? is nullable.
Empty sequences and empty choices (sets) are legal in the W3C XML schema language. But many think restrictions on xsd:all groups are too onerous. (I agree.)
I'm at the Extreme Markup Languages conference in Montreal this week. As the mood strikes me, I may update this site in real time. However, it will be a little slow going at first as I'm giving one of the first talks this morning, and I just found a bug in the software I'm announcing demoing here, and have just over two hours in which to fix it. Plus I realize I left the most recent version of my notes sitting on my desktop at home, and have to recreate the recent changes. :-) My camera is acting up. Unless I can figure out how to fix it, I may not be posting any photos from this year's show.
---
Is overlap really a question of multiple trees and diffs between them?
---
My talk is over now. There were a lot of good suggestions in the talk, and I may be busy for a while trying to implement some of the ideas. What I talked about was a small program that obscures XML by randomizing its content and optionally its name while preserving its structure. This enables documents to be submitted to tool maintainers to reproduce bugs without exposing private information. It's currently in very rough shape, just raw source, not even a zip file. I need to improve that now that it's been officially announced. In the meantime, if you're curious probably the best way to get started is by reading the conference paper. It's nice being the first talk at the conference. Now I can give my full concentration to listening to other people, without being constantly distracted by thinking about what I'm going to say. (Last year I basically ignored a talk I really should have heard on GXParse because it happened to fall right before my own XOM talk.)
---
You know the saying "It steam engines when it's steam engine time"? Sometimes at these conferences you can hear the whistle of the oncoming steam engine a little early. Of course, sometimes the steam engine derails on the way (Schemas); and sometimes it always seems to be right around the corner (XQuery, RDF, Topic Maps, Semantic Web). But sometimes it really does arrive on schedule (XML, UML, Java, HTML, HTTP, REST, RELAX NG). I think I'm picking up the sound of the next train. I've heard it in at least three different places just today, and I don't think these people are working together yet; but they're all heading toward the same station.
Right now I'm listening to Kristoffer H. Rose talk about the Data Format Description Language DFDL (pronounced "Daffodil"). This is a way of mapping from standard binary formats like JPEG, COBOL copybooks, and C code into XML. What jumps out at me about this is he specifically does not want to convert this to an XML document. He just wants to expose the data through an XML interface. And I'm hearing something similar on a lot of fronts right now, including some of my own work in XOM.
The point is that the sheer cost of converting all the data to Strings (and other objects) is starting to limit parser performance. To some extent, this is nothing new. SAX quite deliberately does not pass String to the characters() method. Instead it passes a char[] array and an index into that array. This allows the parser to keep passing the same array to the method and simply update the index. However, SAX, StAX, and similar APIs still create a lot of strings: for each element and attribute name for example. Tree-models like DOM and XOM are even more profligate with object creation. Good parsers like Xerces reuse the same strings; but if you've ever profiled deeply into an XML application you're likely to see a lot of time spent in String creation regardless. What's really annoying about this is that most of the time you don't need most of those strings. A typical application only uses a small subset of the strings (and other objects) an XML parser creates. The I/O cost of moving all this data around can also be significant.
A lot of developers here seem to be converging on the same solution from different directions. The destination is what one of the posters downstairs calls "in situ parsing". In other words, rather than creating objects representing the content of an XML document, just pass pointers into the actual, real XML. In some cases you wouldn't even need to hold the document in memory. It could remain on disk. This won't work with traditional APIs like SAX and DOM. However, it might be important enough to justify a new API. Many, though not all, use cases could see an order of magnitude speed-up or better from such an approach. Memory usage could improve too. Current tree models typically require at least 3 times the size of the actual document, more often more. Using a model based on indexes into one big array might allow these to reduce their requirements to twice the size of the original document or even less. Finally, this approach would make retrieving the actual original text of the document feasible, so you could finally tell whether a document used & or &. Most programs don't need this ability, but it would be very useful for XML editors and other programs that want to do better round-tripping.
---
Jon Bosak is doing a last minute fill-in presentation on UBL. Basically this is a plan to convert a lot of paper documents to XML forms by defining a "royalty-free library of standard business documents." I don't buy it. Bosak says, "You trade off all the wonderful ways you were customizing things, and you do without it." Customizations are not a mistake. They are necessary functions of doing business. I don't believe in making all businesses work alike just to standardize a few forms and take more humans out of the loop. (plus it's not RESTful, but Bosak thinks that's fixable.)
I'm pleased to announce that I'll be speaking at Software Development Best Practices in Boston in September. This will be my first time at this show since it was changed its name and focus from Software Development East. I'll be presenting four sessions:
Testing GUIs with Abbot and Costello
Testing XML
User Interface Principles in API Design
Effective XML
I'll also be hosting a round table on "XForms, Web Forms, or What? The next generation of rich user interfaces". I should stress that, today's quote notwithstanding, I don't have a strong opinion about what the right answer is (or answers are) to the question of what next generation client technology should we be using. I've spent some time looking at XForms myself, but I haven't really explored XUL, XAML, WebForms 2.0, and other possibilities. I do hope, however, that we'll have some strong opinions on the panel from various camps. Anyone interested in participating as a panelist around that table, should drop me a line. Ideally I'd like to have representatives from the Microsoft, Mozilla, WHAT, and XForms camps.
---
Opera Software has released version 8.0 of their namesake web browser for Windows, Solaris, FreeBSD, and Linux. A Mac version is still in beta. New XMLish features in 8.0 include SVG Tiny, XHTML+Voice, and XmlHttpRequest. Other major new features in 8.0 include speech-enabled browsing, fit-to-window width, easy retrieval of closed pages and blocked pop-ups. and inline error pages. Opera supports HTML, XML, XHTML, RSS, WML 2.0, and CSS. However, XSLT is still not supported. Opera is $39 payware.

---
Linspire has posted the fourth pre-release of NVU (pronounced N-view) 1.0, an open source GUI HTML editor for Mac OS X, Linux, and Windows based on Mozilla Composer. The software looks reasonably slick, but I'm still not ready to give up BBEdit for it. The general flow of using the application is pretty rough. Saving is poorly designed, with an unnecessary distinction between publishing and saving, and lots of confusing dialog boxes. I could figure it out if I really wanted to, but my wife couldn't. If there's any way to check the links in a document, I couldn't find it. Mozilla Composer was never a particularly a good HTML editor in the first place, and while NVU cleans up some of the more obvious editing problems it's done little to fix the underlying problems. If I'm giving a GUI editor to someone who can't type HTML, I don't expect them to understand FTP or URL syntax either. Here's my test for a useful GUI editor that NVU flunked massively:
Spot a typo.
Edit the word to fix the typo, just like I would in my word processor.
Select File/Save or Ctrl-S, and have the page saved with the typo corrected.
Note what is not involved here:
Figuring out where on the site to save the page. The page already exists. Put it in the same place.
Giving the name of the file. The page already has a name, even if it's index.html and I edited "http://www.cafeaulait.org/"
I could (barely) accept the editor asking for a user name and a password, provided it only asked once and never asked for it if it didn't need it. But that's it. Otherwise, editing a page should be just as easy as editing a file in a word processor like Word, or even OpenOffice (to lower the bar some). NVU doesn't come close to that standard.
---
Speaking of OpenOffice, Louis Suarez-Potts writes, "A security vulnerability affecting OpenOffice.org 1.1.4 and earlier, as well as 2.0beta, including the developer builds, was recently detected. It has been fixed and a patch is available for immediate download for all users of OpenOffice.org 1.1.4. Users of earlier releases (1.1.3 and prior) must upgrade. Users of 2.0beta are requested to download the latest beta, OpenOffice.org 1.9.95. It will include the patch and be ready shortly."
I'm very pleased to announce the release of XOM™ 1.0, a new XML object model. XOM is a free-as-in-speech (LGPL), library for processing XML with Java. XOM supports a number of XML technologies including Namespaces in XML, XSLT, XInclude, and Canonical XML. XOM documents can be converted to and from SAX and DOM. XOM strives for correctness, simplicity, and performance, in that order. XOM is very easy to learn and easy to use. It works very straight-forwardly, and has a very shallow learning curve. Assuming you're already familiar with XML, you should be able to get up and running with XOM very quickly.
XOM is the only XML API that makes no compromises on correctness. XOM only accepts namespace well-formed XML documents, and only allows you to create namespace well-formed XML documents. (In fact, it's a little stricter than that: it actually guarantees that all documents are round-trippable and have well-defined XML infosets.) XOM manages your XML so you don't have to. With XOM, you can focus on the unique value of your application, and trust XOM to get the XML right.
XOM is fairly unique in that it is a dual streaming/tree-based API. Individual nodes in the tree can be processed while the document is still being built. The enables XOM programs to operate almost as fast as the underlying parser can supply data. You don't need to wait for the document to be completely parsed before you can start working with it.
XOM is very memory efficient. If you read an entire document into memory, XOM uses as little memory as possible. More importantly, XOM allows you to filter documents as they're built so you don't have to build the parts of the tree you aren't interested in. For instance, you can skip building text nodes that only represent boundary white space, if such white space is not significant in your application. You can even process a document piece by piece and throw away each piece when you're done with it. XOM has successfully processed gigabyte sized documents without breaking a sweat.
It's at least a year past when I hoped to release XOM, but the extra time has resulted in a much cleaner, more robust, faster API. XOM is now considered to be ready for production use. Future, post-1.0 releases should be backwards compatible with the 1.0 API for the foreseeable future.
If you'd like to know more about XOM, I suggest starting with the tutorial. XOM also includes a large collection of small sample programs that demonstrate various parts of the library. If you're curious about why XOM is the way it is, or if you would like to suggest future directions for XOM, you should read the design principles on which XOM is based. if you have a question about XOM that is not answered in the API documentation or the FAQ, you can ask it on the xom-interest mailing list. You do not need to be subscribed to post, but non-subscriber questions are moderated.
---
The Omni Group has released OmniWeb 5.1, a $29.95 payware web browser for Mac OS X. OmniWeb 5.x is based on the same KHTML engine safari uses so it supports the same basic functionality: XML, HTML, XHTML, and CSS but not XSLT. (I'm hoping we'll see XSLT functionality in Safari 2 next week at MacWorld, and maybe if we're really lucky it won't require a full OS upgrade, but don't hold your breath. Since Jobs returned, Apple has a horrible track record of supporting older OS releases.) Version 5.1 allegedly improves performance. However, the demo crashed on the second page I tried to load. The second time I launched it, it loaded fine. A nice feature is that the demo gives you 30 days to try it out, rather than 30 days from first launch. Handy if you just want to use it occasionally to test sites rather than as your main browser.
---
The W3C Privacy Activity has posted the fourth public working draft of the Platform for Privacy Preferences 1.1 (P3P1.1) Specification. "P3P 1.1 is based on the P3P 1.0 Recommendation and adds some features using the P3P 1.0 Extension mechanism. It also contains a new binding mechanism that can be used to bind policies for XML Applications beyond HTTP transactions." New features in P3P 1.1 include a mechanism to name and group statements together so user agents can organize the summary display of those policies and a generic means of binding P3P Policies to arbitrary XML to support XForms, WSDL, and other XML applications.